The Tavern
Discover a lively, sophisticated lounge close to the Historic Inn Lobby. Sip craft cocktails stylishly prepared by our creative, professional staff who champion the art of mixology. Mix and mingle with fellow guests or find a quiet corner of the adjacent Great Lounge to catch up and get cozy.
Play a round of billiards or watch the game on our widescreen high-definition TVs. Dine on a selection of small plates and enjoy the company of other members and resort guests 21 years of age and over.
Dining Details
Open Daily: 4 p.m. - midnight
Dress Code: Casual
No Reservations Required
Redbridge Gluten Free
6.25
Sierra Nevada Pale Ale
6.25
St. Pauli Girl Non Alcoholic
5.75
Draft Beer
Ancient City Red Ale
5.75
Engine 15 J'Ville Lager
5.75
Champagne & Sparkling
#003 Banfi Maschio Prosecco Brut D.O.C.
12
#026 Dom Perignon (BTL)
330
Chardonnay
#233 Columbia Crest H3
10.75
Pinot Grigio
#63 Santa Margherita
14.5
Sauvignon Blanc
Other Whites
#042 Chateau Ste. Michelle
12.75
Pinot Noir
#422 Niner Wine Estates
17
Cabernet Sauvignon
#624 Barossa Valley Estate
12
#kw Round Pond Estate Kith & Kin
17
#618 Niner Wine Estates
22
Merlot
#511 Ste. Michelle Canoe Ridge
15
Malbec
#750 Red Schooner, Voyage 4
18
American Whisky
1792 Ridgemont Reserve
9.25
Elijah Craig Small Batch
10
Elijah Craig Barrel Proof
15
Elijah Craig Single Barrel 18yr
25
Jack Daniel's Single Barrel
12
Jack Daniel's Single Barrel Proof
18
Jack Daniel's Single Barrel Rye
12
Old Rip Van Wink le 10yr 1.5oz
80
Sagamore Cask Strength Rye
17
St. Augustine PVIC Private Selection
12
Thomas Handy Straight Rye 1.5oz
75
Whistle Pig Rye, 1.5 oz.
23
Single Malt Scotch
Glenfiddich Project XX
17
Vodka
St. Augustine Distillery
9
Gin
St. Augustine Distillery
8.5
St. Augustine Distillery Barrel Fished
10
Van Gough Double Expresso
10
Tequila
Cognac
Hennessey Paradis, 1.5 oz
96
Louis XIII
90 | 165 | 230
Port & Sherry
Sandeman Founders Reserve
9.5
Sandeman Tawny 20 Year Old
18
Taylor Fladgate Tawny 10 Year Old
14
In Celebration of PVIC's 90th Birthday - Cocktails from the Roaring Twenties
Courvoisier VSOP | Cointreau | Lemon Juice | Simple Syrup | Orange Twist
Woodford Reserve Rye | Hennessy VSOP Turbinado | Peychaud's & Angostura Bitters Sambuca | Lemon Twist
Tanqueray 10 | Lemon Juice Simple Syrup | Champagne | Lemon Twist
Tanqueray | Lemon Juice | Honey Water Orange Bitters
Craft Specialties
Maple Smoked Old Fashioned
13
Old Forester | Cane Sugar | Aromatic Bitters Maple Smoked Glass | Orange Twist
Old Smokey Manhattan - by Raly
18
St. Augustine PVIC Select Bourbon Hennessy VSOP | Buttermilk Bitters Punt e Mes | Applewood Smoke Infusion
Titos Aloe Vera Cocktail - by Bibi
11
Muddled Grapes | Aloe Vera Juice Honey Water
The Coolcumber - by Beau
12
St. Augustine Hand-Crafted Gin | Honey Water Cucumber | Fresh Mint | Strawberries
Lycheebiscus Martini - by Jessica
14
Manifest Vodka | Lychee Juice | Hibiscus Syrup Lime Juice | Muddled Lychee
Herradura Reposado | Lime Juice San Pellegrino Pompelmo | Agave Nectar Grapefruit Bitters | Smoke Salted Rim
Plymouth Gin | Maraschino Liqueur Crème de Violette | Lemon Juice
Jeremiah Weed Sweet Tea Vodka Sömerus Mango | Unsweet Tea
Hanger One Rosé Vodka | Lemon Juice Simple Syrup | Lemon Twist
Dobel Diamante Tequila | Raspberries Lemon & Lime Juices | Turbinado Black Sea Salt Rim
Key Lime Pie - by Raly
13
Vanilla Vodka | Lime Juice | Simple Syrup Crème of Coconut | Lime Zest Garnish
William Wolf Pecan Bourbon | Kahlua Somrus Indian Cream
The Nutty Tin Man - by Beau
14
Tin Cup High Rye Whiskey | Disarono Falernum Bitters | Cinnamon Syrup | Banana
Zaya Rum | Bumbu Rum | Lime Juice Pineapple Juice | Crème of Coconut Cinnamon Syrup | Angostura Bitters
Sagamore Cask Strength Rye | Amaro Antica Ricetta Vermouth | Plum Bitters
Hangar 1 Vodka | Handcrafted Lemoncello Handcrafted Myer Lemon Bitters | Simple Syrup
Sagamore Cask Strength Rye | Hennessy VSOP Carpano Antica | Benedictine House Crafted Bitters | Peychaud's Bitters
Plymouth Gin | Lemon Juice Orange Blossom Water | Simple Syrup Heavy Cream | Egg White
Strawberry Basil Margarita
15
Strawberry Infused Reposado | Cointreau Lime Juice | Agave Syrup
Reposado Tequila | Mezcal Mole Bitters | Agave Syrup
Open Daily: 4 p.m. - midnight
8 oz. Freshly Ground Beef | Brie Cheese Crispy Onion Rings | Brioche Truffle Parmesan Steak Fries
Tomato | Fresh Mozzarella | Parmesan | Basil Oil
Crab, Sweet Corn & Avocado Cocktail
18
Chili Lime Vinaigrette | Yucca Crisps
Caesar Salad
With Chicken 16 | With Shrimp 21
Parmesan Cheese | Croutons | Tomato Caesar Dressing 9
Zesty Cajun Broth | Steamed Shrimp | Garlic Grilled Baguette
Roasted Garlic & White Bean Hummus
13
Herb Infused Olive Oil | Grilled Flatbread Marinated Tomatoes | Feta
Domestic Artisanal Cheese Flight
8 per cheese
Rockets Robiola, NC | Gisele, VT | Cottonwood Cheddar, KS | Great Hill Blue, MA
Chicken & Smoked Bacon Meatball Skillet
15
Bourbon | Peach & Datil Pepper BBQ Creamy Yellow Corn Grits
Crispy Fried Buffalo, Bleu Cheese or Jamaican Jerk Grilled, Lime & Sea Salt
Selection of Cured Meats | Scratch Pickles Grilled Sourdough | Pepper Jam & Mostarda
Caramel Milk Chocolate Whiskey | Bake Shop Dippers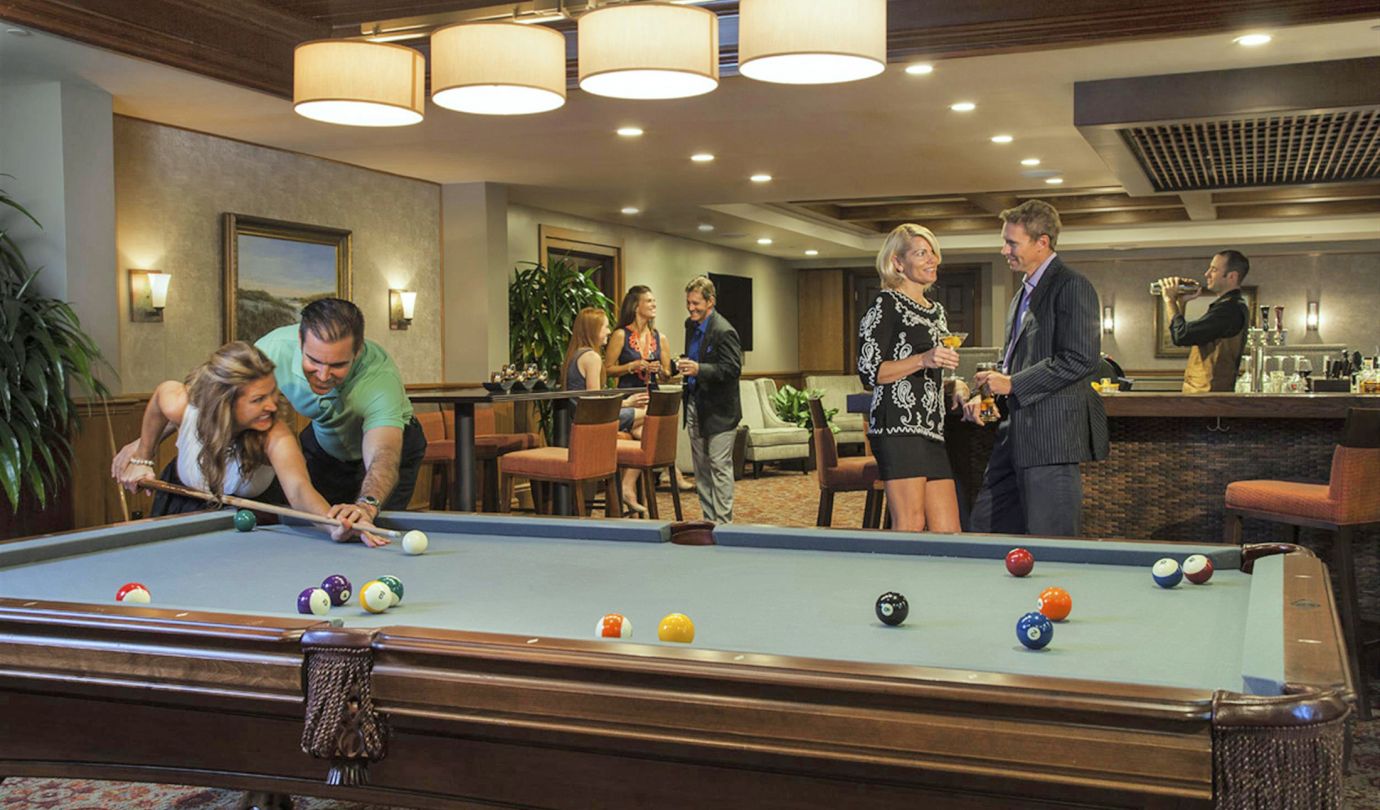 Additional Dining Options
Ponte Vedra Inn & Club
Chef's Table at Seahorse Grille
Currently our Chef Tables are suspended. For private group dining experiences, please inquire with our concierge.